I know many of you have been waiting for this.
We are happy to let you know that Apple has approved our iPhone Apps. You can now use L-Lingo on your iPhone or iPod Touch and we offer all our languages: Arabic, Chinese Mandarin, Burmese, Hindi, Japanese, Korean, Malay, Tagalog, Thai and Vietnamese.
You can find all our Apps in the Apple App Store or on iTunes.
The iPhone App offers you the first 65 lessons of L-Lingo with a training mode and picture and translation quizzes. So it is a great way to learn your favorite Asian language when on the go. Here are some screen shots of L-Lingo Learn Thai.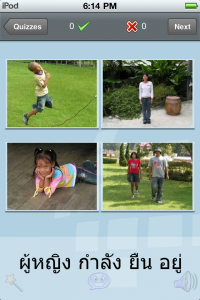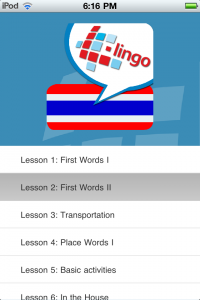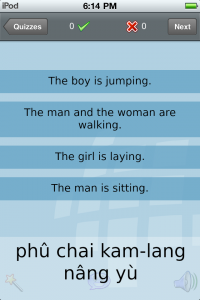 It does not contain a few features from the Desktop Version (audio mp3 files, slow speech option, printable flashcards and textbook) but with its quizzes and language content its a great way to support your language learning when away from the computer.
We currently do not yet offer a free trial version (developing and getting Apps approved takes some time). If you have any questions or technical problems with the App, please drop us a line under support@l-lingo.com so that we can fix and address any problems. We are very dedicated to constantly improving our products.
Please note: L-Lingo for iOS only runs on iPhone 3GS, iPhone 4, iPod Touch 3rd and 4th Generation. A special iPad Version is under development. So stay tuned!