Mother's Day is a warm, heartfelt occasion celebrated globally to recognize those who we hold closest to our hearts, mothers. In this article, we'll be going over how to say Happy Mother's Day in 15 languages.
How To Say Happy Mother's Day In 15 Languages
English: Happy Mother's Day
Spanish: Feliz Día de la Madre
German: Alles Gute/Liebe zum Muttertag!
Japanese: 母の日おめでとう!
Portuguese: Feliz Dia da Mãe
Chinese: 母亲节快乐 (traditional: 母親節快樂) Mǔqīnjié kuàilè
Malay: Selamat hari ibu
Italian: Buona Festa della mamma
Vietnamese: Ngày của Mẹ
French: Bonne Fête des mères ("Day of Mothers")
Thai: "Suksan Wan Mae" (สุขสันต์วันแม่).
Burmese: "ပျော်ရွှင်ဖွယ်မိခင်များနေ့ ပျော်ရွှင်ဖွယ်မိခင်များနေ့ (pyawshwinhpwal mihkainmyarrnae)
Russian: "Счастливого дня Матери".
Tagalog: Maligayang Araw ng Mga Ina!
Arabic: عيد ام سعيد(eyd 'am saeid)
5 Ways To Learn A Language With Your Mother Today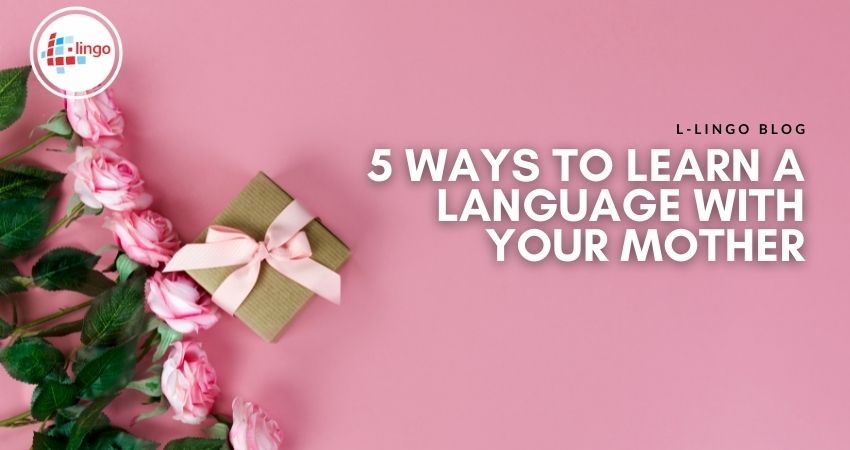 Make a mother's day card in your target language and surprise her! Don't worry, yes people still buy cards.
Sit down with your mother and teach her all the words for love and appreciation in your target language. Just start blurting the words out and translate afterward, she'll hug you to pieces.
Treat your mom to a home-cooked meal from your target language's country. Be sure to cook up a storm!
Sing her a love song in your target language. Singing just has a natural way of cheering anybody and everybody up. Give our Karaoke Madness article a read to get started.
Take her on a treasure hunt, and only leave clues in your target language. It'll be a fun learning experience for both of you.
L-Lingo Premium Mother's Day Promotion
I'm sure your mom told you at least once to always buy things while they're on sale. From May 9th, 2021, – May 11th, 2021 L-Lingo Premium is 50% OFF. Now you can take advantage of this incredible deal to learn a new language today. L-Lingo Premium includes over 5000+ words, 105 Lessons, a vocabulary builder, native audio, and so many more cool features to boost your language learning progress.