I have just put a new version of L-Lingo online. This version has many new features that I'd like to introduce to you including printable documents, a new configuration for the picture quiz, a full screen mode, an additional lesson selector, and a reference to our desktop version.
Printable Documents
You can now display the text and flashcards of each lesson and print them out. For this function, we have added a new menu called 'Documents to print-out' just below the quiz selection buttons. If you move your mouse over this label you can then select to display the textbook or flashcards. Later, we will also add some explanations concerning grammar, which are currently under preparation. These documents are great to continue your learning away from your computer. Once again, I would like to thank Eric who is the developer of FlexPaper for this great method of displaying documents.

Configuration of Picture Quiz
We have also added additional configuration options in the Picture Quiz. You can now display the text with audio (like before), or you have the option of showing just the text or just the audio. In this manner, you can specifically train your listening or reading skills. Just click on the following button in the Picture Quiz.

Full screen mode

On the top right corner of the main screen, we've added the button pictured above. This button allows you to switch between Full Screen and Normal Screen mode anytime.
Additional Lesson Selector
Below the two arrows for lesson selection, we have now added a small list of all available lessons, allowing you to jump directly to a specific lesson. This menu might be quicker than pressing the arrow buttons repeatedly, and it also provides a better overview of the content of the lessons.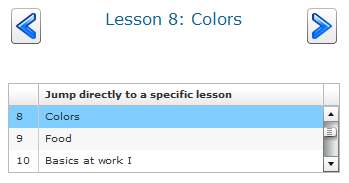 Reference to our Desktop Version L-Ceps Personaltrainer
Since we hope to keep L-Lingo free, we need to support the development costs via our commercial product L-Ceps Personaltrainer. Therefore, we have added some more references to our Desktop Software (available for Windows, Mac and Linux), which offers much more content than L-Lingo. If you are happy with L-Lingo and would like to continue learning with our approach, please have a look at L-Ceps.  There is a free trial available on our website.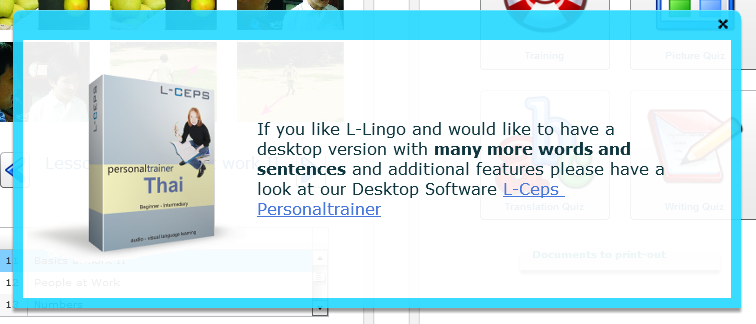 Well, there you have it, all the new features in this new release. We hope you'll enjoy this new version, and we will look forward to your continued valuable feedback, which allows us to keep building an application that you like as much as we do.
Please follow and like us: