We have been quite busy behind the scene to work on some exiting new features for you. They all have to do with Karen. So who is Karen?
Karen is your new virtual teacher.
Karen will assist you in learning your favourite Asian language in a variety of ways.
1) Karen will help you to setup L-Lingo
When you launch L-Lingo now, you will find a small wizard in which Karen explains you the various settings on how to adjust L-Lingo to perfectly match your learning needs.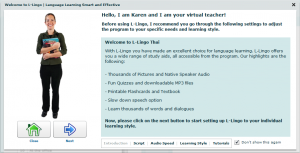 You can now setup your favorite script (standard or phonetics), the audio speech and learning style.  With learning style you can define if you prefer to learn more in a visual way (e.g. with pictures) or more with translations. This will then influence the content of the Guided Quiz.
2) Karen will explain you background information about the language
Many of you have requested that we include explanations and grammar notes into L-Lingo. We have now included grammar notes for learning Thai (currently only available in English). You will see them when you launch L-Lingo Thai (in English) and click on the Training button.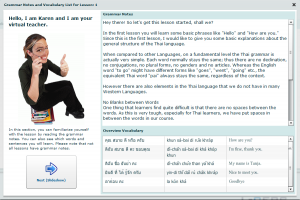 Please let us know how you like the grammar notes and if you would be interested to get these grammar notes also for other languages.
3) In Future Karen will help you even more
We already have some ideas on how Karen can further help you in learning your Asian language. So stay tuned -there is more to come.
Please note that these new features are currently only available in the Online Version of L-Lingo but will be also implemented in the L-Lingo Desktop Software soon.
Please follow and like us: